Fine Art Archival Pigment Printing Services
Giclee Printing To 64" Wide
We understand that printing and/or making art reproductions in general is a very subjective process and hard to verbalize at times. Finding a printer that will work with you to realize your artistic vision can be a daunting task. Because of our background in art and photography we are very sensitive to these issues and offer a very personalized experience.
Hanson Digital also knows the goal of most artists is to offer top notch reproductions to their Customers. We enjoy working directly with our Clients to achieve their unique look and feel. By offering expert-level Photoshop support, digital imaging & retouching services to compliment our fine art printing services, we help our Clients' work look its best when it is digitally reproduced.
There are many different paper stocks available including fine art cotton rag or watercolor papers, Awagami AIJP papers, canvas, and a variety of photo-based papers. We are able to test specialty materials for your particular project to ensure compatibility with our equipment and to achieve custom tailored results.
We are A Hahnemühle Certified Print Studio
We were one of the first studios in the Bay Area to receive Hahnemühle's prestigious Studio Certification. We proudly print on a wide variety of Hahnemühle Fine Art papers.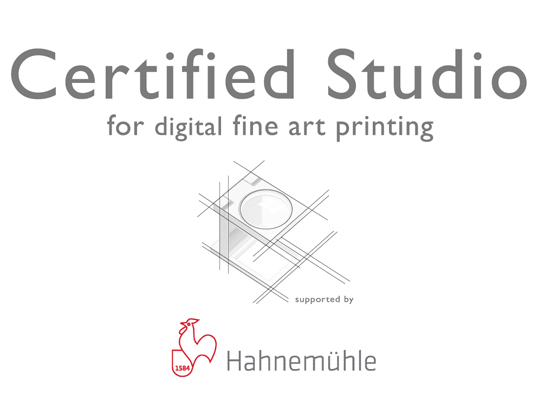 UltraChrome Pro Fine Art Color
Our Epson P20000 is the latest Sure Color Pro Printer that utilizes a 10-ink process to provide top tier prints with some of the best longevity ratings available. This system features extremely fine details, including excellent shadow and highlight detail, along with very vibrant colors. It's the latest in Giclée printing technology for the best fine art digital reproduction quality available today.
For information on actual print longevity ratings, please visit:
www.wilhelm-research.com.
Print sizes are available up to 64" wide by almost any length.
Discounts
We give discounts for entire portfolio/edition orders of 10 prints or more on same paper stock as well as orders that include both scanning and printing services. Please contact us for more information.
Turnaround
Normal turnaround is 48-72hrs. Please Note: While we always try to return your job ASAP, actual turnaround time depends upon quantity, paper stock, size of prints, and current work in house. Please call for scheduling if your job or project requires a quicker turnaround. Rush services are available.
UltraChrome Pigment Print Pricing*
Prices below are based on a sheet size. We need at least 1/2" - 5/8" border on all sizes listed. If your project requires a full bleed, no problem, we can print on a larger sheet if needed and trim the final print down to your size. Please call with questions or prices for custom sizes.
Size
1st print
Add'l copies
8.5" x 11"
$20.00
$15.00
11" x 17"
$30.00
$20.00
13" x 19"
$45.00
$30.00
17" x 22"
$60.00
$45.00
20" x 24"
$80.00
$50.00
22" x 30"
$90.00
$65.00
24" x 36"
$115.00
$85.00
36" x 36"
$150.00
$125.00
36" x 44"
$180.00
$155.00
44" x 44"
$225.00
$190.00
44" x 60"
$300.00
$250.00
44" x 72"
$374.00
$330.00
44" x 84"
$437.00
$385.00
44" x 96"
$498.00
$440.00
60" x 60"
$425.00
$375.00
60" x 72"
$510.00
$450.00
60" x 96"
$680.00
$600.00
60" x 120"
$850.00
$750.00
Larger or
Odd Sizes
Please Call
Please Call
*Price is for sheet size. Please inquire about specialty papers. Discounts given for entire portfolio/edition orders of 10 prints or more on same paper stock as well as orders that include both scanning and printing services.